Highly Recommended Janitorial Services: Commercial Cleaning, Office Cleaning
"We've been using Quality Cleaning for the last 3 years. He's
extremely reliable
,
on time
, any time there are special needs in the restaurant, he's down within an hour or so to handle the problem.
He sanitizes the areas. We've had comment from the health inspector that this is the cleanest restaurant in the city of Reading, MA. We've had many comments from customers... how clean the restaurant is when they come in. Everything is done to perfection! I couldn't ask for anything more from Jean. We've used other companies through the years. I've been in the business since 1972...Jean is by far superior to all.
I would recommend him to anybody in the restaurant business. Affordability is great. The amount of cleaning, the quality of the cleaning, it's well worth it. And he's trustworthy. He's got my keys to my restaurant. My codes to my alarm system. There are many times when I come in I will find a 20 dollar bill or 10 dollar bill sitting on the bar (this is the truth!) that his workers had found during the course of the cleaning and will leave on top of the bar for us. That's a great plus. My pleasure! Anything I can do for Jean I will."
Mr. Carmen
Venetian Moon Restaurant
Reading, MA
Highly Recommended Janitorial Services Boston
"
I am very happy
that I have my friend here from Boston Quality Cleaning. I've called him last week, he was
very prompt
, he said he was going to come, he showed up.
He took a floor that has taken a real beating and he turned it into a new floor. I am very grateful for that. Good luck to you! Wonderful work!"
Rabbi Yossi Lipsker
Chabad Lubavitch Of The North Shore
Swampscott, MA
Highly Recommended Commercial Services Boston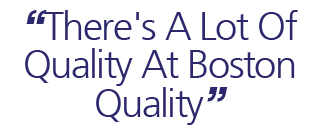 "On a very short notice, on a emergency basis, we've called Boston Quality Cleaners andf
they responded promptly and efficiently
and took a situation that was mired in wax and took floors that needed some refurbishing quickly and did a wonderful job, competent job, cheerfully done with
amazing attention to detail
.
I could not recommend this company more highly than I do. They are a wonderful outfit. I would recommend them to anybody that needs quality work. The name is well chosen because there's a lot of quality at Boston Quality."
Mr. Walter
Church Of Saint Paul
Brookline, MA
Highly Recommended Janitorial Services Boston
"I know Jean for over a year now. He works for our company GTI Properties. It's located in Boston on Saint Botolph St.
He takes care of 19 buildings. There's over 300 apartments
.
He's got a couple of commercial spaces too. And he is very reliable. For example, I had an emergency on the weekend on Saturday and I gave him a call a and he came right out and took care of it.
It was broken water heater. Very reliable. Steam cleaned the guy's carpet and the tenant had no problems and that we like over here at GTI. I would recommend Boston Quality Cleaning.
I'm Mark Murphy and I put my word behind it. It's VERY RELIABLE. I like Jean."
Mark Murphy
GTI Properties
Boston, MA
Highly Recommended Office Cleaning Services Boston

"To Whom It May Concern:
Boston Quality Cleaning Services has provided Modernista! exceptional service for over 2 years. All of our expectations are always met.
Our workspace is very old with all hardwood floors and many white walls and we occupy 3 floors which covers a large space, 22,400 sq. ft.
This is no small feat but Boston Quality Cleaning Service has managed the job with ease and professionalism. They are friendly, easy to work with, discreet, trustworthy, they have honest suggests, always efficient, timely, accommodating and extremely flexible so as to meet our needs.
I would recommend them to any small to mid-size company that requires personalized and friendly service."
Lisa Mullaney
Office Manager at Modernista!
Boston, MA
Highly Recommended Commercial Cleaning Services Boston
"We opened our school here a little over two years ago and its a brand new facility to train medical assistants, dental assistants and medical billing professionals, and one of the things that were most important to me was the look of the facility to make sure that both the students and the staff have the best facility possible.
I found Jean before we opened and we hired Jean to perform all of the janitorial cleaning and maintenance services, and so it's been over two and a half years now that we've been with Jean. We couldn't be happier, the facility looks great. It's really one of the first things that students tell us when they come in to take a tour is 'Wow, this is a great facility'." Whether it's students, we've also had advisory board members that have told us and all of our home office visitors and it's the first thing out of anybody's face is how great this place looks. It's a tribute to Jean and Boston Quality and they've kept things looking brand new. It's two and a half years old, but it still looks as bright and shiny as it did the day we opened.
We're really pleased with Jean's services. This, where we are standing right now is the student lounge where students have the opportunity to eat lunch, to eat dinner. The students come a lot of times during meals. This is obviously a really important place to keep clean and Jean's staff keeps it sanitary and everybody enjoys it.
We do medical training and so we've got laboratory areas that need to be impeccably clean, and again, thanks to Boston Quality. The place looks great.
This is a great room, our dental assistants use this. They learn how to all of the chair type procedures and they also learn how to take x-rays. So as you can see, everything needs to be sterile and clean and students learn how to maintain the environment. Again, Jean keeps this place spotless and it looks great.
Overall we've been really satisfied and the other thing that I would add is that I've called upon Jean several times in the last couple years to go above and beyond. There has been times where we've been locked out of the building he has the building locked up and Jean is always quick to stop what he is doing to run over here, lock up the door and open door, whatever it may take. There's nothing that have ever asked him to do that he hasn't done.
Interviewer: "What was your first impression, you know, like the first week, what was your first impression of the quality of the service provided?"

"That is a great question, you're right. We are obviously nervous in the beginning and especially since the cleaning services typically happen when we're not here, supervised, so I was always a little bit worried. We had a couple of different services lined up that we have gotten clots from, but every morning when I come up to this place it looks great and especially a couple weeks after we opened we had a big grand opening and where we would get VIPs and people from all over the country and it really shined the place up and so ever since the beginning it's been great. Like I said, we've had him for over two years and I don't plan on changing anytime soon."

Interviewer: "What types of comments did you hear about the women about the bathrooms, about the quality of the cleaned bathrooms, is it wonderful, amazing?"

"Jean's crew keep the bathrooms going and and very well and we've got pretty high traffic, you know, a couple hundred students that are in here, the majority female staff and student body, and so the women's restrooms are obviously going to get a lot of use. But they come in mid-day, they come in the evening and they keep the place spotless."

Interviewer: "If people would like to come here and see your facility and the level of cleanliness, and also if they would like to apply to any of your courses, what's the address here in the Boston area?"

"We are located at 540 Commonwealth Avenue in Kenmore Square, right at the intersection of Brookline, Beacon and Commonwealth."

Interviewer: "What type of courses do you guys have?"

"We have three training courses, we have dental assistance, medical assistant, and a medical building in coding specialist program."

"I think that at almost any business, you can go in and see te level of dedication and care based upon the cleanliness of the facility and that gets commented, you know, to me all the time. It's how great the place looks, it gives everybody a great first impression."

Interviewer: "In this case is Boston Quality affordable, from what is paid to Boston Quality to maintain this top level of cleaning, is Boston Quality affordable?"

"We find it very affordable , it's right in line with all the course that we got and the service is everything we could hope for."
Adam Kellner
Kaplan Institute
Boston, MA
Highly Recommended Janitorial Services Boston
Interviewer: "How did you find Boston Quality Cleaning Services?"

"It was through Google search, I found Jean. Jean has been great, very professional, impeccably clean with orientation to detail and he does a great job. He's been cleaning our office and commercial properties and our residential properties. I've got so many great things to say about Jean. I can't thank him enough. It makes me look good, it makes the property look good, can't say enough."

Interviewer: "What was your first impression, let's say after the first two weeks or three weeks?"

"The one great choice."

Interviewer: "Could you mention something about the work that was done, did he complete a floor cleaning or maintenance or for several floors, things like that."

"Whatever Jean touches and tackles for cleaning comes out perfect. Just no questions, just perfection."

Interviewer: "Are you happy with the amazing quality of the cleaning supplies that he provides?"

"He provides us all natural products and it works, it's green products, they are great. Doesn't kind of smells or offensive products some people and sensitive to."
Interviewer: "Could you tell us a little bit more about the previous cleaner here, how was the experience before Boston Quality?"

"Years ago there were cleaning companies that I tried and gone through and had here for services. It wasn't happening with the cleaning, wasn't working with the cleaning. Clients that I take care of weren't happy that there was a different person here everyday. Things weren't getting clean, there was no regular schedule for anything. Jean has taken over and just takes over, you don't have to worry about it, it's done, clients are happy. There's no problem or issues. He's friendly, he's personable."

"Whether it's Jean or whether it's people than reckon with him, under him, if Jean doesn't happen to be here one day, everything is still done."

Keith Scott
Boston, MA
Highly Recommended Janitorial Services Boston
"I'm the owner and saying about the school it's a Hair Academy we're located in the historic downtown Lowell, and I met Jean here, I came searching online I've been to many companies. I went to hire a few to be honest with you before a found Jean and really locate a company and a person that I felt very comfortable with.
Jean is been doing this for a long time with us and of course in his own business. He's done a great job for us, provided a great service. We've heard nothing but positive feedback from him, excuse me, from the instructors, from ourselves, from the students.
So it's been great. It's definitely it's a service that I recommend anybody who needs any cleaning. Will that be residential or commercial.
As a school is very important to us to keep clean, keep things very clean, organized, professional and sanitary. Specially seen we're overseen a lot of agency that demand that from us. So to have a company like Boston Quality Cleaning come in and Jean in particular may us feel very security and very comfortable about our situation. Like I said, we went to hire a few before we settle with Jean, with this company. We're very pleased that we did that. We're very happy with that decision.
He comes in and does his job. Doesn't disrupt anybody, doesn't disturb anything or anybody. So when people start noticing change in appearance, they would come to us and my partners and say "Who are these imaginary cleaners, the ghost cleaners?" Which is great, it's a great compliment to us really, and we're thankful to Jean because, like I said, it was very noticable changes at the school. What I didn't notice was any increase in our price, you know, the quality came up but the price didn't so, yeah, he worked with us. We needed some special service, to say the least.
There were services that since we've had Jean, services that we never expected; changes in our paper towels, the quality of the soap. Things we never expected and we rarely didnt agree to it.
They were just above and beyond that's what we needed, and what we asked for. Who doesn't like getting something for nothing?"
Matt Collins
Lowell, MA
Highly Recommended Janitorial Services Boston
"My name is Paul Valenski and I am the operation manager here at Northside Imports in Watertown, Massachusetts, which is our fifth location nationwide. We opened here in March and at that time, we needed to get our office clean, so I made a
couple calls to a couple different cleaning services and Jean and Boston Quality Cleaning Services was one of them. The two others; one I never got a call back from, and the other guy came here a day late and he wasn't on time and was very
impersonal, and then Jean came, and he came on time. He was very personal, every need I had he took care of me.
I had him come in here and the main thing was our bathrooms, especially the men's bathroom. We are a distribution so we have a warehouse and we have a lot of traffic in the bathroom, especially in the men's room. The floors were just terrific and Jean just made those floors spick and span and you could see your face shining on them.
The job he did in the bathroom just was great. Then, from there, I told Jean, "Listen, you know, come in here, clean the bathrooms, let me know, we'll see how that goes and the we go from there. If we are all happy with you we will continue
with your service and you know what, after that, the bathroom was cleaned, I couldn't say no. It was just a great job and Jean gave us just a great price to come here on a weekly basis and clean the place. When they are done there the place is just absolutely, magnificently, clean. When they are done I can't find a speck on the floor, and not one piece of garbage in the garbage can. The bathrooms are fabulously clean.
I couldn't tell you enough about Jean and Boston Quality Cleaning Service. They are just, the staff the most friendly people, they are attentive to any needs that we need. Anything that I need I let Jean know, any staff member that he has
come with him and they take care of it, without any questions asked, no problems, and I just couldn't say enough. It is a great, great cleaning service and I recommend them to any company in need of a cleaning service where they previously didn't have any like we did or they are just not happy with their current cleaning service. So, what I got to say is I recommend Boston [Quality] Cleaning Service to any company that just wants a great job and to have to deal with some
that just is personal and is open to any need. He just does anything that you need and you just let him know.
Interviewer: What about the cleaning supplies nowadays, you know, office cleaners, so Boston Quality provide in good quality cleaning supplies that are top quality?
Oh, absolutely, they use green products, which I feel 100% behind that and agree with that a lot, you know, with what is going on. It's safer products for people to be around, so I don't worry when they come and clean that there is
going to be some kind of chemical laying around of some sort. They are using all green products.
Interviewer: In case if a viewer would like to watch this video and would like to come here just to attest to the quality of the service provided by Boston Quality, and also if they need any automotive parts from you, right, imported ones? What is the address here, so people can come in?
We are located at 610 Pleasant Street in Watertown and anyone who wants to come here and see what kind of Boston Quality does or do business with us, I highly recommend that.
Interviewer: Do you have like a website so that they can visit and know more about your company?
Yes, www.northsideimports.com"
Paul Valenski
Northside Imports
Watertown, MA